f
u
t
ure
s
ite
of hayessites.com
Web Site Development
About Me
(Under Construction)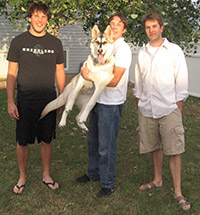 I grew up in Southern Montana and Northern Wyoming. Currently we live in Great Falls, Montana. My wife and I got married in 1982 and we have three sons (see pic) who are all out of high school. I obtained my bachelor's degree in mechanical engineering in 1986 from the University of Wyoming and worked in aerospace and also as an HVAC design engineer. Consequently, I learned Fortran as a programming language in college but anyone under the age of 30 has never even heard of it. It has been deprecated for several years.
I am self-taught and have always been somewhat adept with computers but not until the last few years have I delved into web site development. The hard thing about web design is there just aren't many others close by to answer questions when you can't find the written answer. The challenge to incorporate new applications and get them done right is what drives my ambition with web design. Static web sites are relatively simple. Beyond static sites, I've integrated dynamic applications such as shopping carts. My goal is to incorporate anything within reason that a customer wants in a secure and efficient manner.
The dog's name is Kita. We acquired her because the first owner's dad didn't accept her howling all night in her first few weeks of life. We didn't know until six months after my son brought her into our home that she mysteriously has some wolf in her. My son knew it all along but was told by various conspirators not to talk about it and he didn't even tell us. If you want an obedient dog that listens to your commands and doesn't make everything a game, don't get a wolf hybrid dog. She's four years old and still howls whenever a siren goes by.
Contact Information:

USA